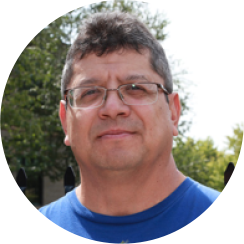 Oscar, A Heart Transplant Recipient
Oscar, a Washington resident and father, led an active life that included fishing, home improvement and watching his youngest son play baseball. After being diagnosed with heart failure, Oscar spent seven years taking medication to help improve his heart function. Unfortunately, in 2008, his health started to decline and was told by his doctor that a heart transplant was his only option to improve his health and quality of life. By this point, Oscar was unable to walk across the street or even get a good night's rest because of his pain and discomfort.
Once placed on the waiting list, Oscar received the life-saving call he'd been waiting for after eight months – they found a matching donor heart.
After his transplant surgery, Oscar was home within a week and the road to recovery began. With the support of his friends and family and his selfless donor – Oscar has a renewed life and the opportunities are endless. He's been able to welcome grandchildren into the world and even get back to his passion – fishing!
Because someone registered their wishes to be an organ donor – Oscar was given a second chance at life.